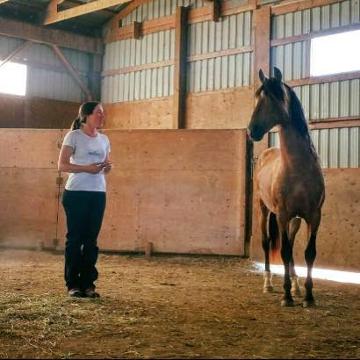 BOOKING FOR 2018 NOW!! CONTACT MARINA TO HOST A CLINIC AT YOUR FARM
Legend: Clinics - Horse Shows - Demos/Trade Shows - Lesson Days
January 7: Marina will have a table at the Grey Bruce Farmer's Week Horse Day in Markdale, Ontario
March 1-2: Marina will be speaking about her work with horses at the Ontario Agricultural Conference. www.centralontarioagconference.ca
March 3: Marina will have a table at the Everything Equine Trade Show in Shelburne, Ontario
March 23-24: Lessons in Port Perry and Kawartha Lakes area
April 14: Marina will provide a demo/mini clinic for the Miniature Horse Club of Ontario at Quardream Farm in Mount Forest, Ontario
May 5: Marina will perform a demonstration about Pair Bond Training and have a table at the Natural Horsemanship Association Trade Show, at Partridge Horse Hill
May 11-12: Lessons in Port Perry and Kawartha Lakes area
June 3: Mountain Trail Challenge, Dream Feather Equestrian, Uxbridge, Ontario
Taking the course has immensely improved the relationship and trust between my horse and I - clinic participant feedback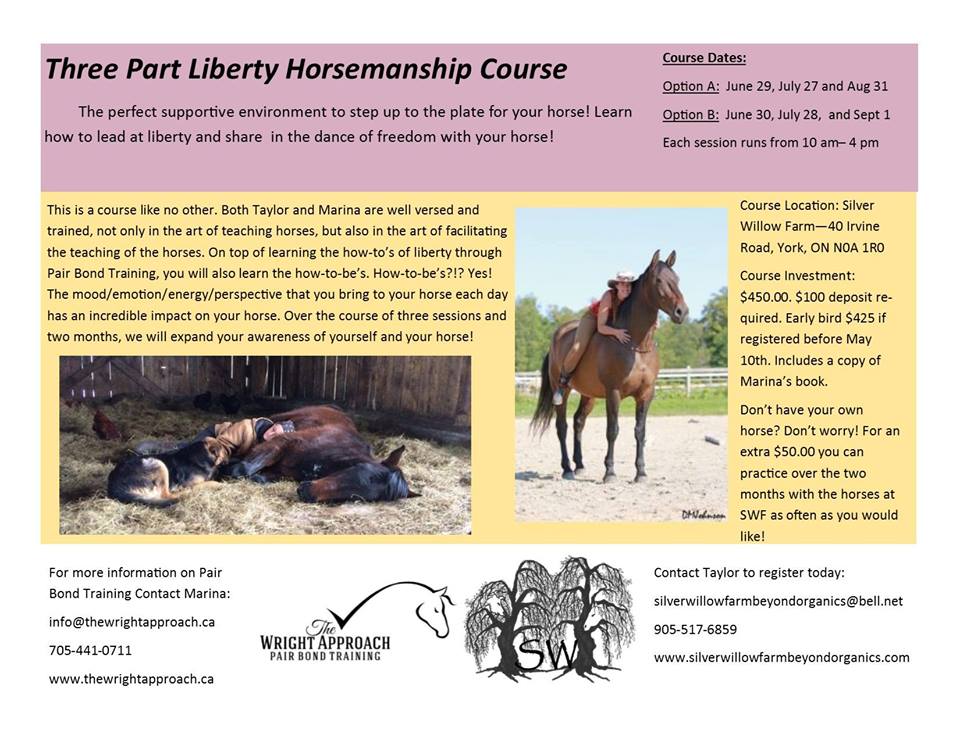 June 17: One Day Pair Bond Training Clinic, St. Clements, Ontario
July 15: Mountain Trail Challenge - Oak Spring Farm, Pontypool, Ontario
August 4-5: Two Day Pair Bond Training Clinic and Camp Out at Saugeen Bluffs Horse Campground in Paisley, Ontario... FULL - WAITING LIST STARTED
August 12: Mountain Trail Challenge, Dream Feather Equestrian, Uxbridge, Ontario
August 15: Western Dressage Show - 24 Carrot Dressage in Mount Forest, Ontario
September 23: Mountain Trail Challenge - Oak Spring Farm, Pontypool, Ontario
To reserve your spot full payment is required. Payment is accepted via cash, cheque, pay pal, or e-transfer to:

Marina Wright

info@thewrightapproach.ca

Cancellation of a clinic requires a minimum notice of 2 weeks for a 50% refund. Inside of the 2 week period no refund will be given. Please contact Marina if you are interested in hosting a clinic.