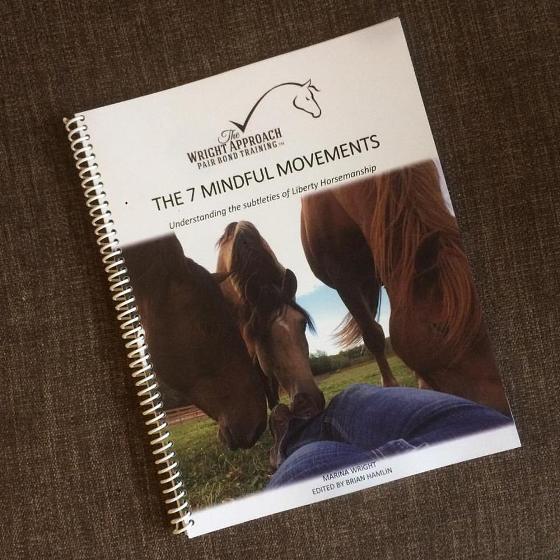 BOOK RELEASED!!
The 7 Mindful Movements - Understanding the subtleties of Liberty Horsemanship
The Foundation of Pair Bond Training!
This weath of knowledge is only available to lesson students and clinic participants at this time.
Contact Marina now to sign up for or organize a clinic near you, or book your private lesson.
"This method is so much more in line with my belief system as to what the horse/human bond can be. The interactions with the horses, the actual experience of the techniques is extremely valuable and a hugely beneficial take-away for both me and my horse" - clinic participant feedback
1 hour Private Lesson: $70
Phone Coaching: $75/hour - Email a video to Marina to get her feedback and suggested shaping plan. Marina will analyze your video over the phone with you and follow up with an instructional video if needed.
Email Coaching: $60/hour - Email a video to Marina to get her feedback and suggested shaping plan. Marina will reply in writing and/or video.
Clinics: Clinics are Pair Bond Training and Positive Reinforcement specific. However, they can be tailored to many topics/focuses if desired. Agendas are available for half day (3 hours), Full Day (6 hours), and 2 day (12 hours). Some available topics/themes are:
- Pair Bond Training
- Body Building Ground Work
- Positive Reinforcement/Marker Training
- Trailer Loading
- Cooperative Care: deworming, hoof handling, haltering, blanketing, grooming, dentistry, bathing, fly spray
- Foal Handling
- Stallion Management
Private Intensives: Same as above, can run for up to 5 days in a row.
With The Wright Approach it's important that there is a solid foundation of relationship before we move on to the next step, whatever that is for you. Horses are social creatures and need to be treated as such.
** Children must be 10 years old or of equivalent focus and maturity to enroll in lessons . This is at the discretion of Marina.